LOL! ok not really! What a corney title well i does have several grape named shadows. But after playing around in my pigments i re-fell in love with Electric Coral! And figured while i was at it i should use Grape also. I REALLY REALLY loved the way this came out! I've been so un-inspired lately just because of life things but today i felt like i owed it to myself to get done up. Anyways my Birthday is this weekend and a kinda don't want to do anything hopefully that will change.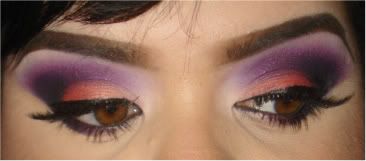 EYES
UDPP
MAC coral crepe paint pot (lid only)
MAC pigments-- electric coral (2/3 lid), grape (outer V)
MAC shadows-- Vanilla (inner corner, highlight), Pollinator (lid), Creme de Violet (crease), Vibrant Grape (layered over crease), Carbon (to darken outer corner)
MAC designer purple pearlglide (outer V)
LANCOME artliner in Noir
ELF dramatic eyelashes + ARDEL long black flares (constructed my own lashes)
COVERGIRL lashblast fushion in Very Black
ELF brightening eyeliner in BLACK
NYX brow powder duo in dark brown
FACE
MAC face &body C2
MAC select cover-up NC20/30
REVLON photoready HD foundation in SHELL (too light for me so i used it under my eyes)
MUD cosmetics Zero and Buttercream loose powders
MAC MSF natural dark (bronzer)
MAC emote blush (contour)
POWDERPUFF cosmetics Flirt blush
BARE MINERALS genuine jade shimmer powder (highlight)
LIPS
MAC select cover up NC20/30
MAC ever hip lipstick
MAC perennial high style lipgloss
MAC smile dazzleglass
please don't mind my red skin. i was in the sun all day yesterday at the waterpark with my niece and nephew and yes i did apply & reapply sunscreen
.
i'm spanish i get color quick.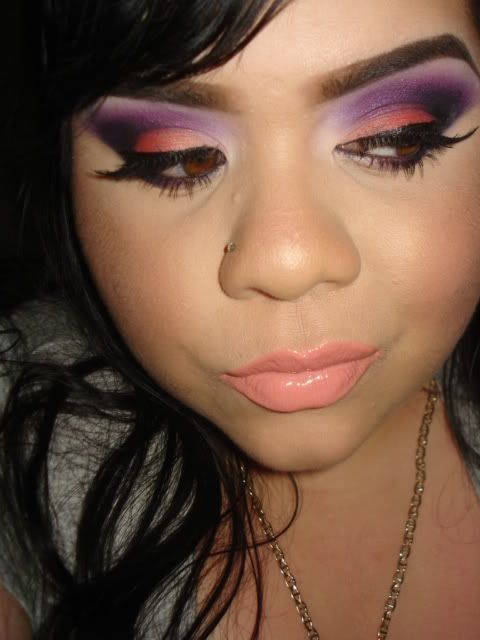 QUESTION: i was wondering if you guys would like more detailed instructions on how i achieved my look (IE. what order and where i placed products) instead of just listing them??? Give me your opinions!
thanks for looking
xOxO BEVERLY