I don't own a jeep LOL! I was going to name this post I can't stand the rain & than that Missy Elliot song popped in my head so I figured I ride with it ... Proceeding on this is my I have a 8 am monday morning history lecture class and I'm not trying to look like a dead like everyone else in the class. Although when the teacher puts on the video, turns off the lights when i blink my eyes feel so good closed I don't bother to open them for 5 minutes. ANYWHO so we finally get cooler temperatures but its raining. Like pouring cats & dogs rain. Like i don't own rainboots & an umbrella yet i need them rain. I got to class soaking wet! Tho my pictures were taking pre wet dog status ...
SB: i hate wearing brown LOL looks at the picks made me realize that luckily its my pj shirt
MAC select cover-up NC20/30
MUD cosmetics ZERO & Buttercream loose powders
MAC perennial high style lipglass
NYC liquid liner in Black <333 it!
Wet & Wild Vanity Palette -- (Matte Beige All over) permanent staple on my vanity as of late =]
MAYBELLINE falsies mascara blackest black
Maybelline define-a-brow in dark brown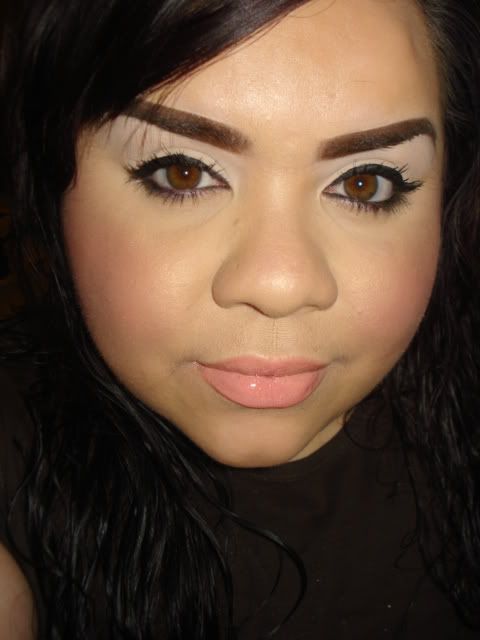 CHICKEN! the love of my life! My first nephew & i love him so. He can do no wrong in my eyes, as you can see in the backround he's like Tasmanian devil in my room. LOL But one bat of his super long eyelashes melts my heart! I'm so jelly of his lashes =] OK thats it i just love this picture & wanted to share
xOxO