For a couple days now I've been hearing about CVS have a big beauty sale, think 50-75% off certain beauty products. Well since I was basically confined to my home because of the blizzard we had I couldn't make it. I was up super early this morning & decided I should head off to check it out finally, tho I wasn't expecting much because my CVS sucks on the cosmetics front.
I saw a lot of Revlon Colorstay mineral make-up on clearance for 75% BUT I by pass any & every drugstore foundation because they don't work for me. Maybe you'll be interested in it tho. I had heard some HIP stuff was on clearance but not at mine. What I did find was something I'd been wanting to try for a while. Some of the Revlon Colorburst Lipsticks & Super lustrous lipglosses at 75% off. These have been on my radar for a while after reading blogs BUT the price was a big turn off for me. Honestly I don't like paying over $10 for ANYTHING drugstore and these were about $8 regular price. I don't mind shelling out for a higher end brand but I like my drugstore buys dirt cheap lol.
[i also picked up the LAST Milani Gems my CVS had! WOOO!!!]
I got 2 Colorburst lipsticks in Coral & Lilac & 3 Super lustrous glosses in Lilac Pastelle, Nude Lustre, & Pink Afterglow.
My Initial Thoughts

One of the reason why I normally don't shop for cosmetics in the the drugstore is because I can never test it out before buying. I kinda sorta knew what I was getting with the glosses but the lipsticks look nothing like the color on top of the cap. For example with the color Lilac I didn't expect it to be so plumy & DEFINITELY did NOT expect it to have a frost finish. #FAIL I HATE anything frosty on lips. But from what I can tell the formula is great. I went on pigmented & smooth in one swipe. Same goes for the glosses. When I picked up Pink Afterglow I saw the shimmer I just didn't expect it to be so much. But I loved the formula. Lilac Pastelle reminded me of a MAC creamsheen at a fraction of the price. Another thing that annoyed me was the varying smells from one gloss to another. I wish it was either a uniform scent IE. MAC has that Uniform Vanilla Scent on ALL their lip products. One of the glosses had a sweet scent, one didn't smell like anything, and smelled like something in between. I'm not saying I hate them because I don't BUT these are some of my initial observations of the bat. I'll decide after i use them.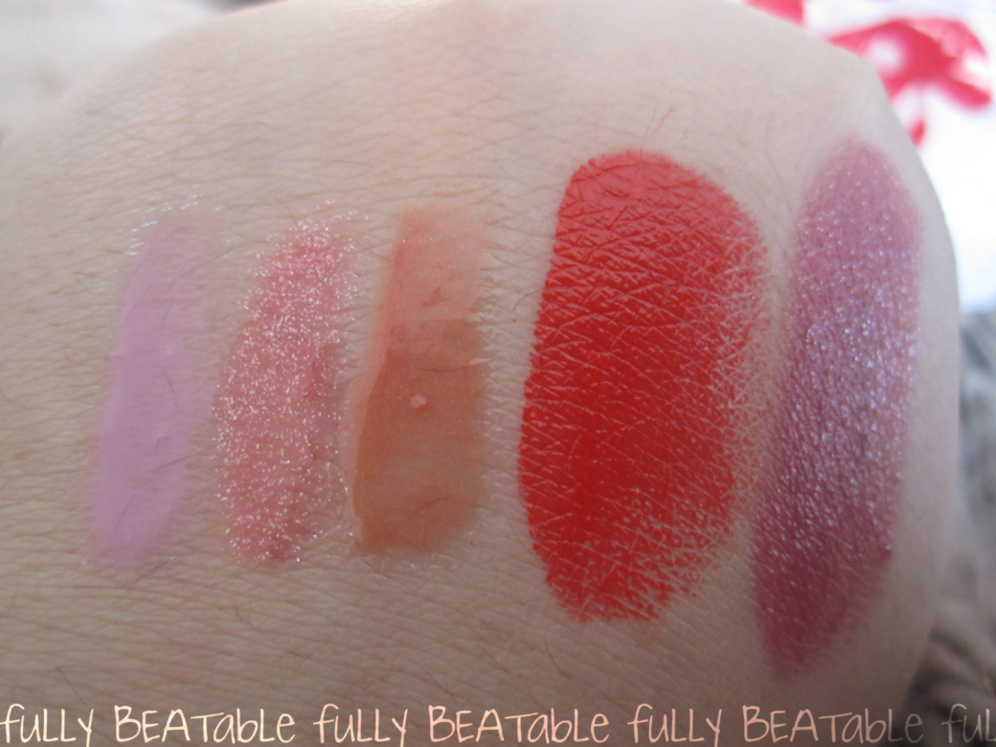 [LEFT - RIGHT]
Lilac Pastelle, Pink Afterglow, Nude Lustre, Coral, Lilac
Do You Own Any Of these Products??? Thoughts???