Continuing on with this series i'll be showing my favorite crease brushes! Know that all of these were purchased over time and i do make-up for all people so what works for one may not work for another its just depending in your eye shape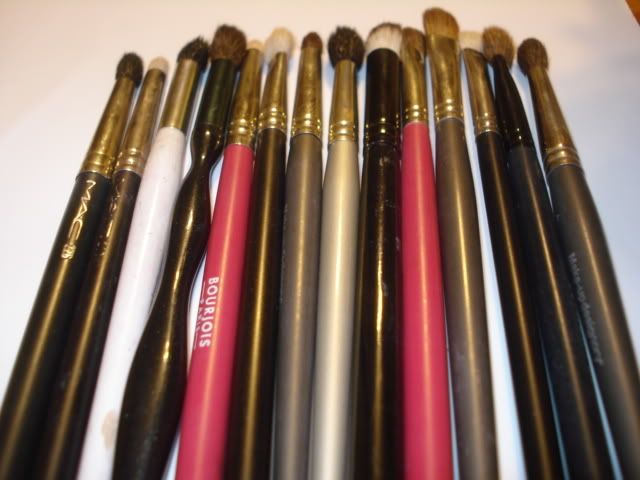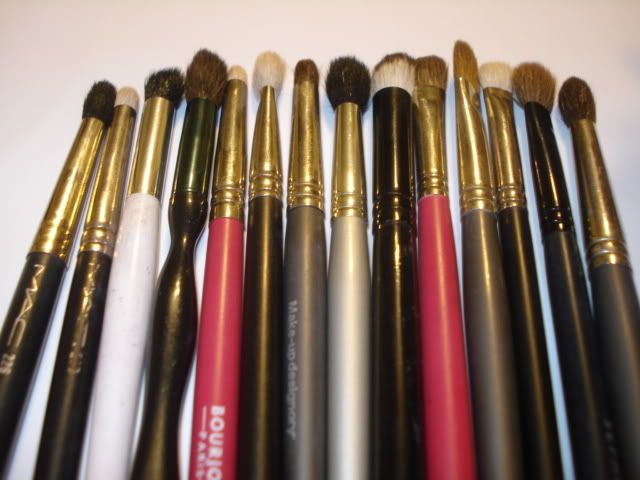 from left - right : MAC 226 (le), MAC 219, Sonia Kashuk crease brush, Sonia Kashuk premium crease brush, Bourjois pencil brush (dis), MAC 217, MUD cosmetics #810 smudger brush, Lancome blender brush, Coastal Scents brush, Bourjois fluffy angle brush, MUD cosmetics #330 shadow fluff brush, MAC 279 (dis), Sephora #29 blending eye brush, MUD cosmetics #800 crease brush
MAC 226 -- Probably in my top 10 favorite brushes! I love this brush! I feel like it works on any shape eye
.
Its stiff and tapered end helps
pack on color while blending it in. Its limited edition but its been released several times already so if you see it coming out jump on it! If you had to buy any MAC brushes this would definitely one!
MAC 219 --

Everyone needs a pencil brush and this is one of the best out there. Its soft yet stiff enough to pack color into the crease and the outer V. Its also great to smudge out liner and shadows for a smokey eye. Perfect crease brush for those with small eye space.

Sonia Kashuk crease brush
--
This brush is defiantly one of those
in expensive gems found at my favorite stores Target! If its one thing that Sonia does right is inexpensive brushes! I like this one personally on my eyes because i have a lot of space. But i have used it one other people and it works just as well. Its soft yet not flimsy and dense so its helps to apply color as well as blend it in. Even if your not on a budget you should own this brush!
Sonia Kashuk small multipurpose brush -- i bought this a couple year ago when it was on clearance and i thought it was being discontinued. That being said it has re-surfaced and idk about the new one but they look the same to me... ANYWAYS this brush is tapered enough to diffuse crease color it is also great for blending any harsh lines in between color. Its different than her white handled crease brush as this is more fluffy and if it wasn't like $4 when i bought i would chose the white handle crease brush instead.
Bourjois pencil brush -- Its been discontinued i guess idk! I got this for a couple bucks when sephora. Its a fluffier version of MAC's 219 but it still gets the same job done.
MAC 217 --

hands down best brush ever! EVERY ONE NEEDS THIS BRUSH! Not only can it blend out colors it helps to diffuse the crease color out this is one of the best concealer brush. Under the eye it gives that airbrushed look!
MUD cosmetics #810 smudger brush -- essentially its like a pencil brush only a little wider. again i use it for crease and smudging liners and shadows. I also really like it for darkening in my outer V and it also blends that color into my crease color seamlessly. one of my favorite eye brushes
Lancome crease brush--

its not a crease brush i usually reach for. Its not my favorite. I feel its a little scratchy and overpriced. It works but i've found MAC and other brushes to work better for the same price. Its fluffy so it helps to diffuse colors out and blend them in.
Coastal scents random brush--

I got this at the 2009 NYC make-up show and i really like it! Its soft yet sift enough to pack in the color. Its slanted on a diagonal but don't sleep on this brush. I've seen other brushes like this and i even think that japonesque makes one but this one is my favorite. This helps to blend out crease colors as well as pack them in. I usually dip the longer side into the color and than put that in the crease. Does that even make sense lol... neways it was a couple of dollars so its very affordable. I don't shop online so i don't know if it is available but if it is buy it!
Boujois angled fluff brush -- Its discountinued at sephora which is where i bought it. I know ulta sells boujois so if u see it there get it. Its a fluffy version of MAC's discontinued 279. It reminds me of the 279 sh version from the holiday sets. That being said it helps to blend color into the outer crease really well.
MUD cosmetics shadow fluff brush --

OH EM GEE i had this brush for soooo long and i never really used it but since i discovered it i'm in LOVE! Seriously tho its worth every penny! Its supposed to be for all over color and diffusing colors into each other but my favorite use for it is packing color into the crease! I reach for this brush everyday! Its fluffy yet stiff enough to pack the color into the crease and diffuse it into lid and blender colors! I've seen that Sonia Kashuk one for a couple bucks BUT i haven't tried it maybe i'll pick it up this week and compare!
MAC 279 -- Its been discontinued but if you can find it pick it up FOR REAL! Its like an angled version of my favorite 217 brush. Perfect for crease colors, blending in a highlight and all that jazz. It's fluffy yet stiff enough to get in the crease, pack the color on and diffuse it out.
Sephora proffesional blending eye brush #29-- This is a dupe for my beloved MAC 217! Its about $8 cheaper so it is more affordable especially if sephora is having a friends and family sale! The bristles are soft yet stiff enough to get into the crease and blend out shadows.
MUD cosmetics #800 crease brush -- I have yet to purchase MAC's 224 because i have several of these brushes and be looking at them and testing out the 224 i have deemed them the same. The bristles are soft and tapered which makes blending out the crease effortless. If you have the MAC one good it's your basic blender brush that everyone needs one of.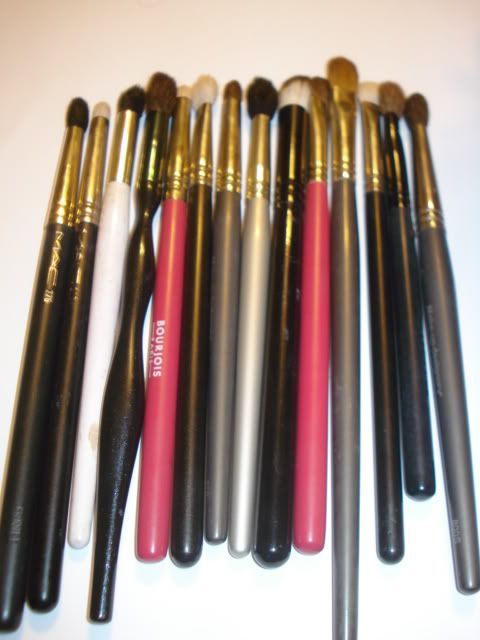 now you don't need all these brushes i just happen to be a brush enthusiast! I love buying all types of brushes plus i like options. But for just doing your own make up i suggest a pencil brush and a blending brush.
tis all for now my loves!
love and lipgloss
BEVERLY