Its been so nice lately i've been enjoy the outdoors. I didn't really get much for my b-day and i didn't really need anything but i knew that some of the money i got i wanted to use on some Make-up but nothing has really been calling my attention.
Anyways i went to MAC because i have some weddings coming up and i tried to convince myself i needed something but when i went there i didn't get much. My friend that works there showed me the new MSF's so she's holding stereo rose and maybe comfort but i'm not really feeling the rest of the collection OH WELL!
I got MAC shadows in Samoa Silk, Romp, Texture. I needed select cover in NC20 so i picked that up. OH and i had passed on the SuperGlass launch but i was surprised my store still had them all in so instead of me picking up my usual sugarrimmed and smile i got similar colors in super glass which they let me Back 2 Mac for SCORE!
At Harmon's i needed my maybelline brow pencil which dupes the mac one but they didn't have my color so i got the NYX one which is ehhh! i don't like the color but whatever. OH and i'm trying out that base coat because Seche Vite was $7 and i usually pay $3 at the professional store i got to so this to hold me over. Yeah i'm kinda cheap like that LOL and i picked up my liquid liner
I also got some clothes from OLD NAVY as they were having their 30% everything sale. I kept it simple i got 2 vests in black and grey stripes, a simple grey v-neck, a black lacey tank and a short sleeved kimono type hoodie.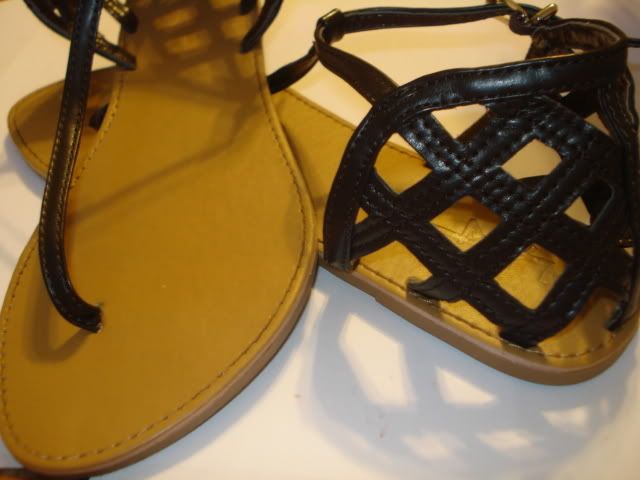 i live in sandals not flip flops in the summer! I'm supper girly like that and i thinks its easy to just wear a v-neck jean and some cute sandals! These were from forever 21 and the were only $7.50! I have Sam Endelman sandals that were really expensive and these forever ones are more comfy!
Than Monday my Mom and My sister made me a birthday dinner so everyone could celebrate! I give them props because we were going thru a heat wave so for them to cook for me meant a lot! I didn't take pics because it was hot i was bumming it LOL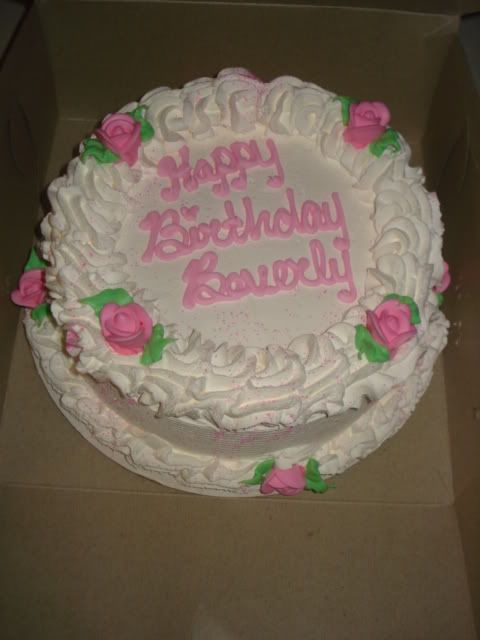 How cute is my cake??? I hate those sugar flowers but the cake was so cute! and PINK my favorite color. The frosting was actually whipped cream and the inside was chocolate and vanilla ice cream with chocolate crunchies in the middle =] YUM!
p.s. I'm working on a brush post so u guys know what brushes i love!