What a corny title! Blah going threw an uninspired time right now plus I'm busy with school. I dont know If I'm uninspired or just stuck in a neutral runt whatever it is I'm not loving color on my eyes. BUT i have some hair posts in the works for you ladies so keep tight =]
ANYWAYS this is a look i've been wanting to do forever! I hardly ever do full on blue anymore. When I first started venturing in color I LOVED blues of all shades. One day while getting my nails done this crackhead (yes I was in in "urban" area because the do BOMB nails LOL) runs up to me and is like you look like a clown. This coming from a lady who was high as a kite with 6 inch talons in the color Neon Pink Shock! Uh HUH! Whatever I wasn't gunna argue with someone who had but 2 teeth in her mouth so i just let it be. But ever since then I have a Blue shadow complex...
Yet the other night at Fashion's Night Out this make-up artist at Sephora had a bright blue eye with a neutral crease. I loved it. It didn't look the same on me as her because she was a darker skin tone ... Still tho LOVED IT!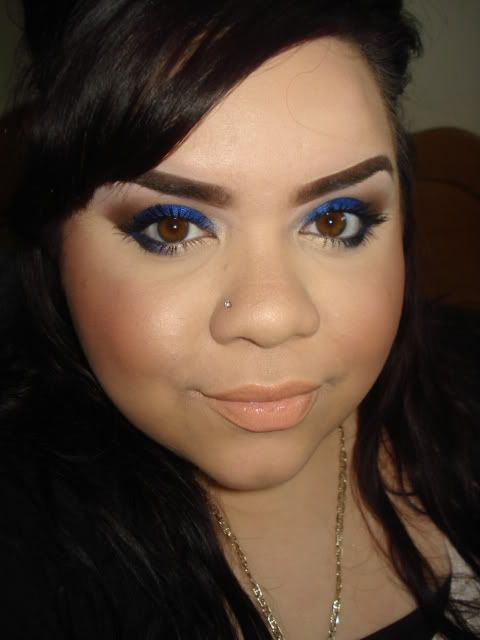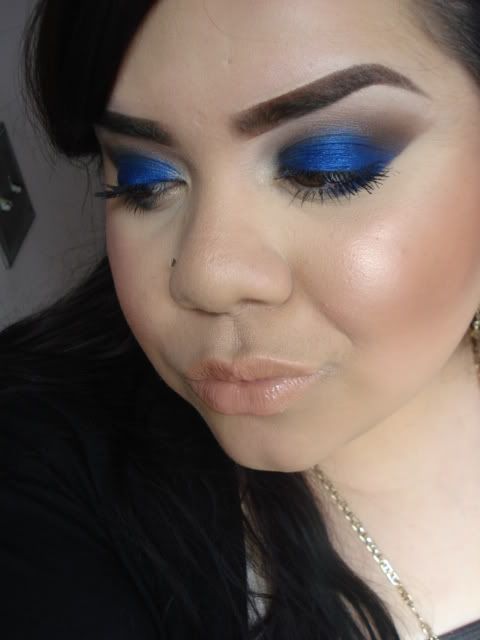 EYES
UDPP
BEN NYE creme liner in blue (lid)
MAC sea & sky MES solid blue side (lid)
WET & Wild Vanity palette -- Matte Beige (highlight), Matte Camel (crease), Matte Dark Brown (outer crease)
URBAN DECAY -- Blunt (inner corner), Twice Baked (outer crease)
Maybelline Falsies Mascara
BROWS
MAYBELLINE define-a-brow in dark brown
Koh Gen Do Concealer Duo in #4
FACE

MAC face & body C2
MAC select cover-up concealer NC20
MUD cosmetics loose powder in Zero (under eye)
NYX taupe blush
LIPS
xOxO