BUT several ladies on twitter wanted to see my new boots. =]
I feel like it went from summer to winter overnight. I had piles of clothes I'd bought for fall in September, I could wear because it was hot. Even a few weeks ago in October it was like 70 degrees still. I had not purchased boots tho I had my eye on different pairs. Shoes are like men to me! I'M HELLA PICKY! If I don't like something I'm instantly turned off. Well now all i had were a couple pairs of ugg boots & some casual dress boots left from cleaning out my closet.
My mom had me on this wild goose chase yesterday! First off she wakes me up hella early considering I went out the night before. Than she makes me drive her all over Monmouth County, NJ for all types of nonsense. Our first stop was Kohls. My mom loves that store! She was looking for skirts for church. She knows i'm the best one to take! Even tho she's super picky like myself, She ended up buying all the pieces I picked out for her. I walked over to the shoes to browse. I was looking for decent looking black pumps for church, no platform, not to high, not to hookerish looking LOL! (if u have seen any like this send me a link!) Well i didn't find them but i did find these combat looking boots & they were on sale.
[don't mind my bed... I was changing the sheets & packing up my room & decided to do a post]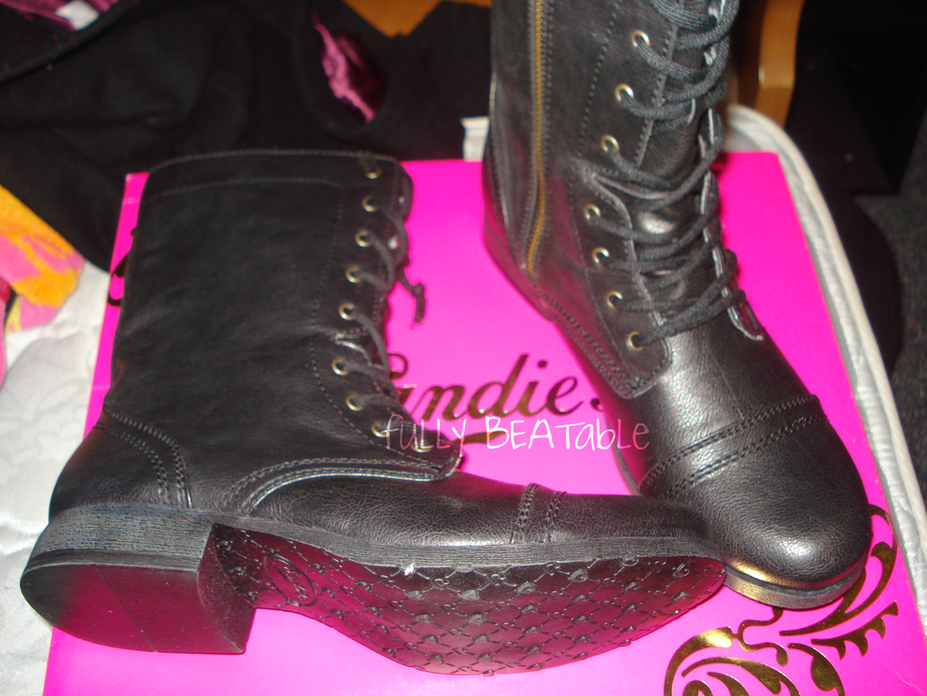 They're by candies. Not originally what I was looking for in boots. But I liked them once i tried them on.

they're not really ankle but not calf boots either. They're somewhere in between. The boots were on sale for $28 BUT my mom has a Kohls charge so she ALWAYS has coupons. I don't know how much the final price was exactly because she bought them for me (love my mom!) but they ended up be somewhere around $20.
BEVERLY