Some girl in my class stopped me today & said "WOW! Your hair & make-up always look great!"
Even tho I have a 8am class Mondays & Tuesdays I still get done up. There is nothing like having your hair & make-up done to start your day. I always get questioned about how i do it or why i even bother. Deep down inside I do it for myself. I don't have to impress anyone BUT it does give you a certain pep in your walk. I feel better when I know that i look better. PLUS I'm a big believer in practicing what you preach. I get stopped by girls all the time asking for tips & tricks. If your in the beauty business, like myself, who is going to take me seriously If I state that I'm a Make-Up Artist & Hairstylist if I don't look it. I know I'm very picky with who I let near my face & hair, If you don't look the part your not getting my $$$.
I've been all about simple yet dramatic looks lately. I'm feeling the cold fall wind & have been all about smokey eyes for a week now. (WARNING: next FOTD's will be smokey eyes =]) I'm all about sweeping one dramatic color on the lid & a matte skintone highlight to blend it out mascara & liner. So simple yet gets the point across. The other day Jess (check out her blog =]!) tweeted a picture where she used sketch on the lid & it looked fab. I had to try it out this morning.
[NOTE: I DO NOT photoshop my pics although contrary to some peoples belief. I played around with this picture because the lighting was off but i liked the way it came out.]
I changed the lip after seeing this picture. I couldn't find the lipstick I wanted to use so I tried a Wet & Wild one and didn't like the look tho I did want a peachy lip.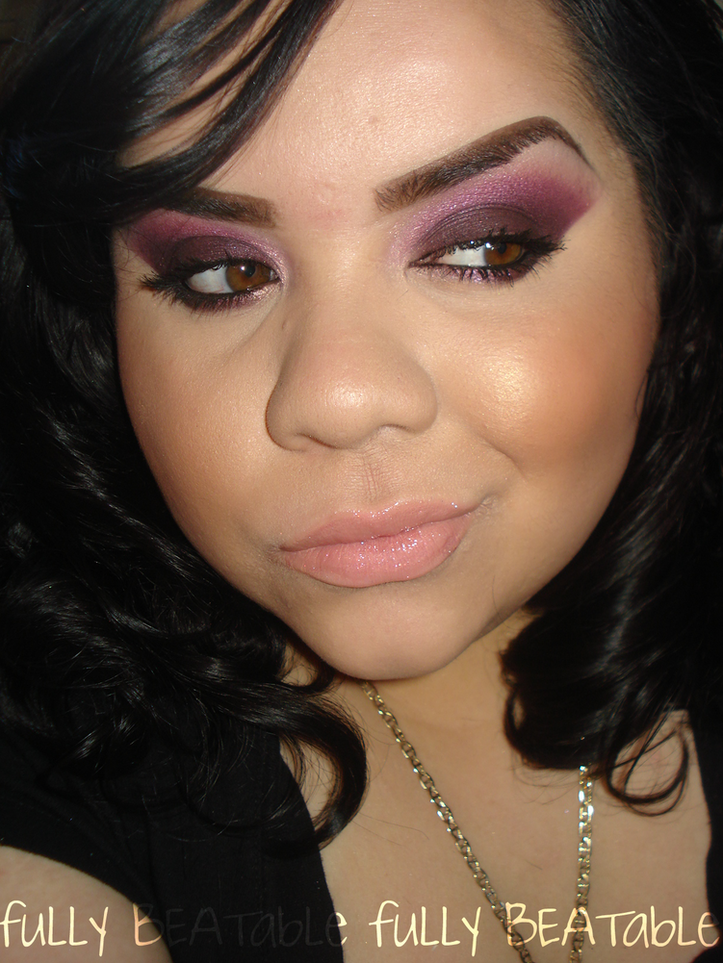 FACE
REVLON photo ready foundation 003 Shell (
testing this out
)
MAC Select Cover-up Concealer NC20
MUD cosmetics loose powders in Zero (under eyes) & Buttercream
MAC msf natural in dark (bronzer)
NYX taupe blush (contour)
MAC Enough Said BPB (apples)
MAC Vanilla Pigment (highlight)
EYES
Urban Decay Primer Potion
MAC Red Velvet Shadestick (lid)
WET & WILD Brulee eyeshadow (brow bone)
MAC Shadows -- Sketch (lid blended up, lower lashline), Hepcat (crease)
MAC Your ladyship pigment (tear duct, brow highlight)
MAC Miss Fortune Pearlglide (lower lashline)
L'OREAL Voluminous Mascara in Very Black
ELF Brightening Eyeliner in Black & MAC blacktrack fluidline (waterline)
BROWS
MAYBELLINE Define-A-Brow in Dark Brown
Koh Gen Do concealer in #4
LIPS
MAC SuperFlash! Superglass
Camera Whoring =]
Now onto packing up my room! The wood flooring is finally done at my new house so this weekend we shall be moving in!!!
xOxO
BEVERLY