Its offically fall. Has been for some days now, but today I got up feeling like it was a red lip kinda day. Not just any red lip, Ruby Woo was calling out to me. See me and Ruby Woo go way back. She was the first MAC lipstick I ever purchased. Before her I only had clear glosses. Shows you how daring I was, My 1st lipstick ever was red. I had no real clue about undertones and all that jazz back than but I knew it would work. Where Lady Danger is my spring/summer go to red, Once the wind blows colder and the leaves start falling, Ruby Woo takes over.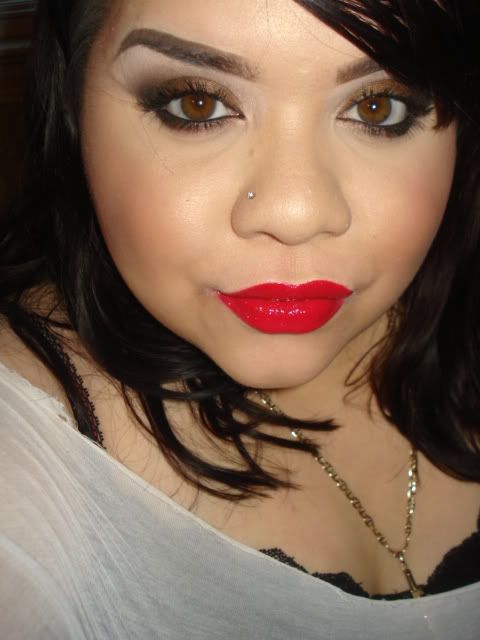 P.S. My giveaway ended today WHOO WHOO! Thanks for participating!!!! I haven't counted all the votes so i hope to do that tomorrow. Good Luck to all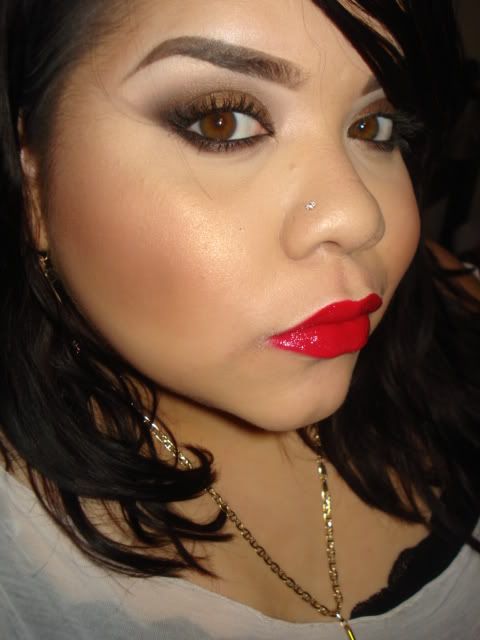 MAC shadows -- Vanilla (highlight), Romp (lid blended into crease), Mulch (outer corner), Carbon (deepen outer edge, lower lashline)
URBAN DECAY Twice Baked Shadow (lashline)
MAC Vanilla Pigment (inner corner)
ELF brightening liner in Black dipped in MAC Blacktrack fluidline (waterline)
L'OREAL Voluminous Mascara in Black
MAC Select Cover-Up NC20/30
MUD cosmetics Loose Powder in Zero
BEN NYE Banana Visage poudre
LIPS
MAC Rue D'Rouge Dazzleglass
Sally Hansen Wax lipliner
This works against feathering & bleeding for all dark, bright and bold lipsticks..
TRY IT!
TIP: Foundation, Concealer, Powder lips. OVERDRAW around your lip shape with a wax pencil. Now line your lips and fill them in with the lip liner. Apply lipstick. Gloss. Clean around edges of the lip with concealer & a brush or sponge.
[messing around with my tripod, so not used to it =] LOL OH and obviously my hair wasn't styled yet it was just wavy from the day before]
xOxO
BEVERLY